"My fur baby & I are regular customers. Ms. Yun always does a good & consistent job... she has my fur baby smelling nice & looking very well neat along with presentable. She cares for my fur baby and always makes sure he's comfortable. She is a good communicator and is very patient. Ms. Yun is always or usually in the Sugar Land area, which makes it convenient for us."
- Camille R.
"I've been very pleased with Sparkling Pets dog grooming service. June, the dog groomer, has always been very professional, reliable, and more importantly, gentle and caring with my pugs. The pugs run up to her (not away from her) when she comes over. That is a good sign. At my request, June uses a mild oatmeal shampoo (pugs have skin allergies) and a small wash rag to clean the wrinkles in their faces. She truly wants her client's and client's owners to be satisfied with the service."
- Yvonne
"Yunen is great. I currently groom 3 dogs and my friend also drops her dog off for grooming when I make their appointments. She was very gentle with my two elderly mini schnauzers, who have since passed away, who needed extra care. She is always on time and I love the convenience and not having to have my dogs crated while they wait for their spa day."
- Sarai C. - Stafford, TX
"Sparkling Pets and Yunuem is the BEST Groomer I could have ever found. To have such a wonderful groomer show up and have my dog jump into her arms is really wonderful. If you want a great groomer, please give her a chance."
- Susan
"I try to get my dog groomed at least every 3 months by Sparkling Pets. I won't use any other groomer again. The service always meets my expectations. My yorkie is comfortable with her which is a big plus for me. I'm sure glad my friend doesn't mind sharing her groomer with me."
- Kimberly D. - Stafford, TX
"We are highly pleased with Sparkling Pet's service!! Yun (groomer) is well-mannered, along with providing very good service. My baby enjoyed and liked her… I did NOT hear any sound from him during the time of his grooming. He had a smile on his face! :0) The van is very well presentable and clean, inside and out! Sweet and nice groomer… wonderful first time!! will return… thank you Ms. Yun!! :0)"
- Marie & Ludwig, Sugar Land TX
"It was a wonderful service!! Alex was our groomer and he did such a great job with our Bernese Mountain dog and Old English Sheepdog. He was very knowledgeable with the dogs and you could really tell he had a passion for animals! I would definitely recommend Sparkling Pets to every furry friend owner!!"
- Peggy D. - Richmond, TX
"I love Sparkling Pets! I have been using them for over two years for my poodle mixes Toby and Molly. I love the convenience of not having to drop them off and leaving them most of the day for grooming. It is so much less stressful for my babies. Both June and Alex are so kind and gentle with the pups. I would HIGHLY recommend Sparkling Pets for your pet grooming needs!"
- Nancy M. - Sugar Land, TX
"Sparkling Pets is an excellent and convenient mobile pet grooming service. Our groomer Alex (who has bathed our little white schnauzer "Kaiser" on a weekly basis since he was a baby) is so patient and sweet with our boys (we also have an elderly schnauzer who requires gentle care). Alex is always on time and quick to communicate if there's ever a schedule conflict. Our puppies come back clean, fluffy, beautifully groomed and smelling much nicer than before their appointment! We're always impressed with Alex's professionalism and friendly customer-service. Their prices and level of service are the BEST. Happy to recommend Alex AND Sparkling Pets!"
- Andrea T. - Katy, TX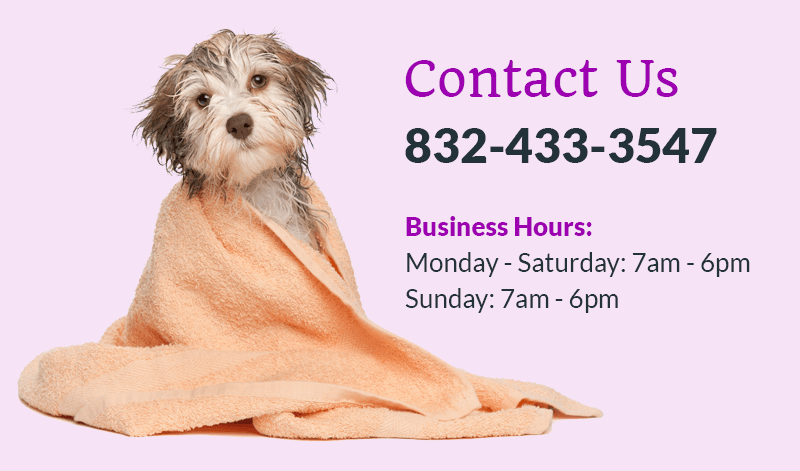 Follow and review Sparkling Pets Mobile Dog Grooming online!